Aktuelle Seite:  

Plant at Fohnsdorf
Eumig Plant at Fohnsdorf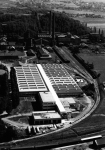 Location: Eumigstrasse 6 / 8753 Fohnsdorf
1976 is scheduled to be the date for the closure of the Fohnsdorf lignite mine. Ing. Karl Vockenhuber is asked, on the part of the government by Federal Chancellor Kreisky, for assistance in providing replacement employment in Fohnsdorf, which is a matter of urgency.
Eumig produces concepts, and the Federal government becomes involved. In October Eumig presents a model for 500 jobs. An agreement is reached with the Federal government, also with regard to the financing.
On 5 November an information day is held for the local population, and 1,000 people attend. The intention on the part of Eumig is to create 50 jobs. Construction is planned to get under way in July 1978.
1977 In April retraining starts for 90 former miners at a company-owned training centre. Investments are made in the best machinery available. 68 applicants come for trainee tests, and 18 are accepted. The building work needed also starts in April.
1978 90 retrained mine workers receive their certificates as skilled employees. The halls for production are almost complete, and Fohnsdorf goes into operation.
This is the location for mould construction, injection moulding, PCB manufacture, and a variety of processing facilities.
In November there are already 300 people employed.
The plant covers a working area of 14,000 m² including the storage area, social facilities, and the transformer building.
1979 Change of management at Eumig, with the Länderbank taking over the whole of the company
1981 Fohnsdorf becomes a subsidiary of ÖIAG and acquires its own management. The liquidation of Eumig does not affect Fohnsdorf. The section of injection moulding and mould construction are later sold off, leaving "PCB manufacture" as a financial success.