Aktuelle Seite:  

Plants at Buchengasse
Eumig Plant in the Buchengasse – Headquarters until 1974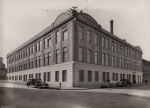 Location: Buchengasse 11-15 / 1100 Vienna
1936 saw the move to an existing older building, where radio equipment, film projectors, and cameras were produced.
This was Eumig headquarters up until 1974.
Purchasing Department, Warehouse, and the Laboratory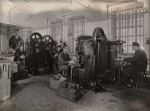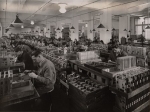 Punching machines, partial assembly of radios
1939 sees the plant being forced into armaments production.
1941 marks the construction of the canteen and dining hall in the Buchengasse. In 1942, a third storey was added to the plant, and from then on some 1,000 people being employed at this facility.
On 13 February 1945 three direct bomb hits, as well as firebombs and air pressure damage, destroy 70% of the plant in the Buchengasse.
The destroyed roof, and the ceiling above the first floor
A view of the yard, and a view of the Schrankenberggasse.
The rebuilding was financed by the production from the plant in Micheldorf, which had been acquired during the war, and where cooking and heating equipment was manufactured in the post-war period.
1948 sees the successive recovery of work from Micheldorf, and Vienna again becomes Eumig headquarters, with Development, Engineering and Production.
1949 sees the start of optics development
1950 and the development of optical lenses gets started, with five people
1955 Female personnel are trained in great numbers by specialist fine optics technicians in the manufacture of lenses. This year also marks the beginning of manufacture of VHF radio equipment and the first television, the TV310.
1958 and a start is made on the relocating of all assembly facilities to the newly erected production halls in Wiener Neudorf.
1961 Optics production also moves to Wiener Neudorf.
1974 sees the company management, with all the technical and commercial departments, move to the newly-erected Eumig Building in Wiener Neudorf.
1975 and Vienna's main production lines also move to Wiener Neudorf.
1976 Halls for the resettlement of the remainder of the Vienna production plant are constructed in the Buchengasse.
1977 All the Vienna production resources begin the move from the Buchengasse to Wiener Neudorf.
1978 The plant in the Buchengasse is shut down and the building sold.